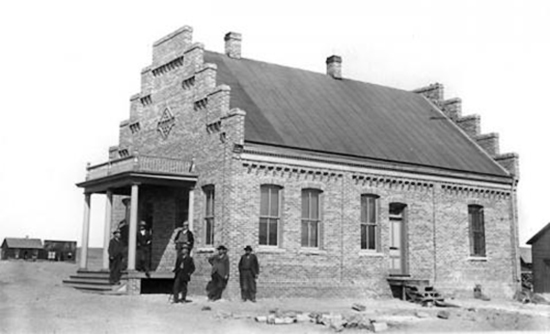 The original Big Horn County courthouse, in Basin, 1901. Wyoming State Archives.
Big Horn County, Wyoming is located in the northern part of Wyoming's Big Horn basin.
Big Horn County was created from parcels taken from Johnson, Fremont, and Sheridan counties, and was organized in 1897.
The principal industries in Big Horn County are gas and oil development, bentonite mining, farming, ranching, and tourism.
The people in our communities still understand and exemplify the Old West traditions of hard work, self sufficiency, and mutual support. Our farms are second to none in sugar beet, grain, bean, and hay production.
Many sights of historical and natural interest are easily accessed and enjoyed on a tour through Big Horn County. Our county offers many attractions, including the Bighorn National Forest and Cloud Peak Wilderness, Pryor Mountain Wild Horse Refuge, Medicine Lodge Archaeological Site, Greybull Museum, Red Gulch Dinosaur Track Site, Bighorn Canyon National Recreation Area (also known as Yellowtail Reservoir), Shell Falls, Paintrock, and the ancient Medicine Wheel. Outdoor recreationists find a wealth of wild game, fish, and outdoor scenery in Big Horn County.
---
Federal Transparency in Coverage Rule Information
This link leads to the machine-readable files that are made available in response to the federal Transparency in Coverage Rule and includes negotiated service rates and out-of-network allowed amounts between health plans and healthcare providers. The machine readable files are formatted to allow researchers, regulators, and application developers to more easily access and analyze data.